Successful
Female ID: "Geo"
Female's last molt: 5/2010
MM received: 7/28/10 - on loan from Tarantula, Inc
Female has been fed heavy since 6/2010 - 3 large crickets twice weekly
MM first introduced 7/31/10. Female was very receptive, however male was very skittish and retreated from her enclosure almost immediately. MM removed.
2nd attempt: 8/3/10. Female was again very interested, and again, the male attempted retreat. This time I left him to co-hab.
8/6/10: Removed MM from female's enclosure and fed female 3 large crickets. No pairings were witnessed during co-hab period.
9/28/10: Witnessed male making sperm web, re-paired. Female very receptive, and this time the male courted her extensively. After about 20 minutes of him chasing and drumming from both parties, mating ensued. Several insertions witnessed over a 5 minute period, and the male used both palps. MM was removed afterwards.
Following this mating, I fed the female at least weekly, 3-6 large crickets or a sub-adult dubia. She was kept in my spider room where temps are 78-82 during the day and 72-75 at night. Humidity varies, but averages 72%.
1/1/11: Female has refused food, abdomen is large. She has not done any webbing as of yet.
1/9/11: Female accepted a meal for the first time in 3 weeks.
1/14/11: Female refused food, abdomen is huge.
1/21/11: She's starting to web! Too early to tell if she's actually constructing a nest, but seeing as how this particular avic hasn't webbed at ALL since I've had her...I consider this a good sign. I overfilled her water dish and poured about 2 oz. of water into the substrate opposite where she was webbing. I also misted her enclosure heavily.
2/12/11: Found her at the very bottom of her tube web, burrowed into the substrate (does she think she's terrestrial??) clutching a sac!
3/28/11 - Sac pulled. About 35 first instar slings darkening for the molt to 2nd instar. 18-19 eggs were unfertilized and there were 2 eggs that were hard and dried. Surviving slings are feeding on the unfertilized eggs!
4/12/11 - starting to molt to 2nd instar!
4/15/11 - all molted that are going to molt...4 died before making the molt to 2i, and 2 died in the process or shortly thereafter. Final count: 29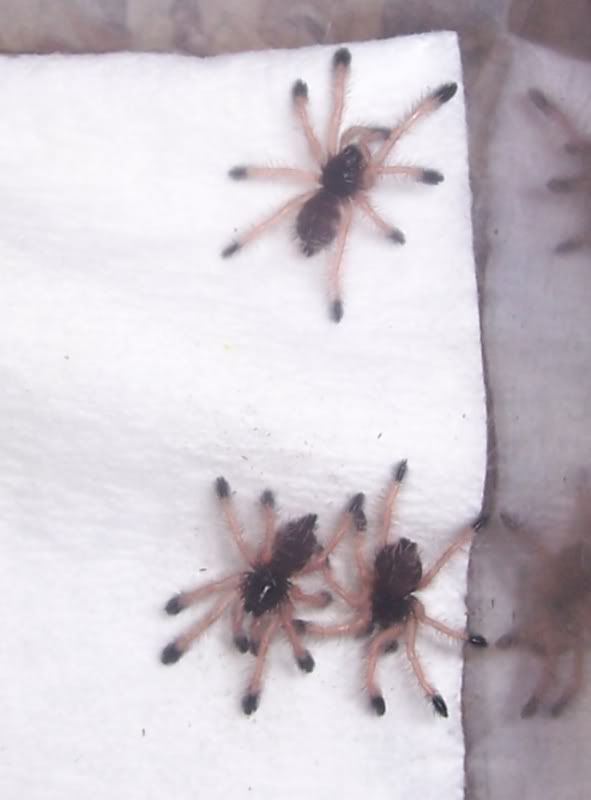 Notes: This was a first sac for this female, and I think the low count was due to improper rotation leading to poor fertilization.

_________________
Jen Newman, LVT
Heartland Invertebrates


Due to technical difficulty, this is a new account - but the same opinionated user! Take that spam bots!!