Successful
Molt
Female June 2011 Male freshly hooked out.
Housing. Gallon jars with substrate on floor.
Feeding
Tong fed. Female accepted 2-3 crickets, usually twice a week. Male about half as much.
Environment
Heated cupboard with fogger. Temperature 75-90 F but humidity precent not known. Male and female were kept near each other for a month in heated cupboard. Although no tapping was noted by male, I elected to attempt breeding them.
Pairing set up
Both containers were buried in substrate at 45 degree angle in large tub with lid. Male's container was open for him to roam. On third day, female's container opened and left to cohabit. Next morning, the male was bolus.
Bred 8/24/11
Female returned to previous environment. Fed 2-3 crickets weekly. I had not expectations for a sac.
10/18/11 Surprise! What looked like freshly laid sac found on weekly maintenance. There after checked weekly with intent to leave sac with mom.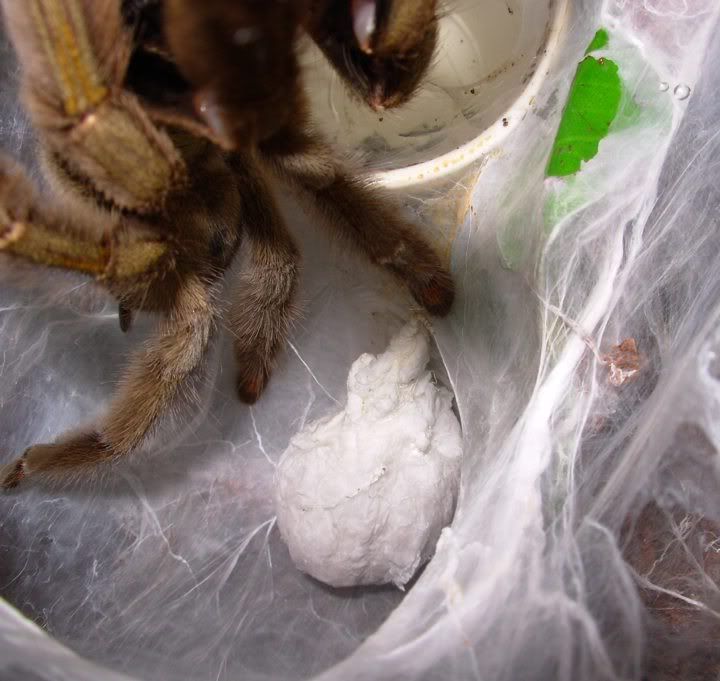 11/19/11 Slings emerged. Count unknown. Mom has an attitude and would go to the mat for the babies. I am guessing about 100. Resumed feeding female two days after slings emerged.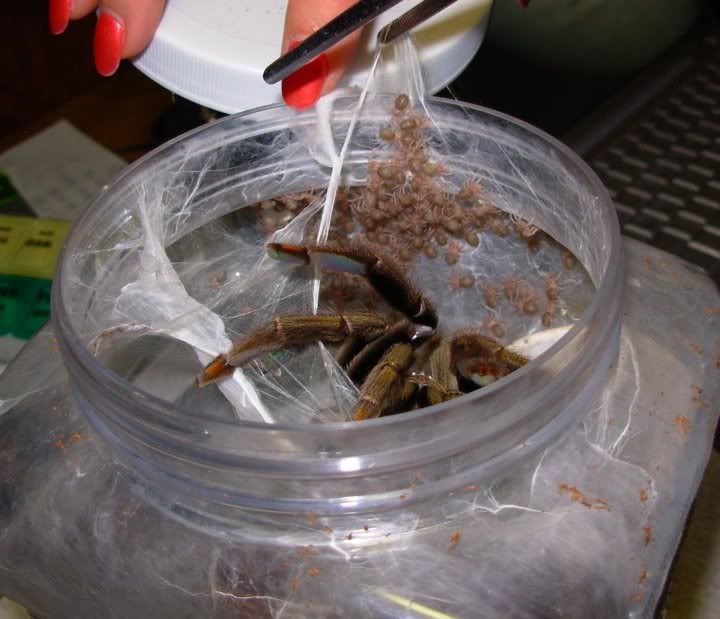 Comments
Female was bred in 2010 to a different, elderly male. Laid two dud sacs. I believe the male was too old.
I live full time in RV so the tarantulas travel with me. Female was gravid during travel but unknown if laid sac during transit because sac was discovered two days after stopped. She tended the sac during two more travel, stop episodes. She has faithfully cared for and defended her young during continued travel. Tough species. Good mom.
Slings 10 days out of sac.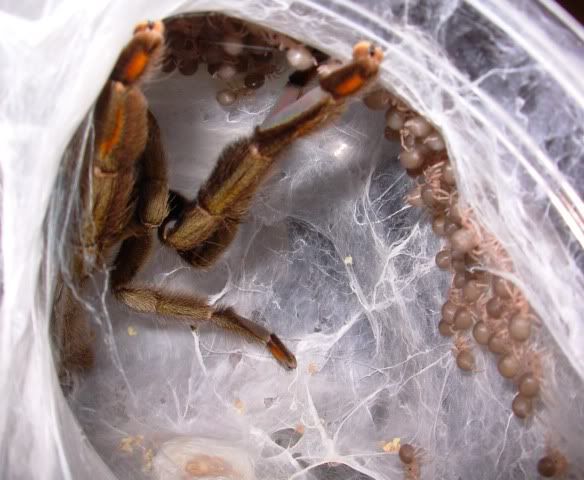 Post script added 12/16/2011
Molted into full dress by 12/10/2011 and ready to move to individual homes. Total 156. Slings removed in bits much to displeasure of mom.