Failure
Female ID: Pixie
Female's Last Molt: 7/2011
MM ID: Charlie
MM Ultimate Molt: 9/2011
Female is housed in a 4x4x2 acrylic hobby cube with coco fiber substrate, cork bark and a bottle cap for a water dish. She is kept in my T room, average temps at her level are ~74-75 with relative humidity 55% or better. She is fed a steady diet of medium sized crickets or dubia roach nymphs once weekly in preparation for pairing.
MM's first sperm web since maturing is witnessed in late October, 2011.
11/9/11: First Pairing. Very successful. MM spends roughly 20 minutes or more drumming to the female and playing "footsie" with the tips or her feet: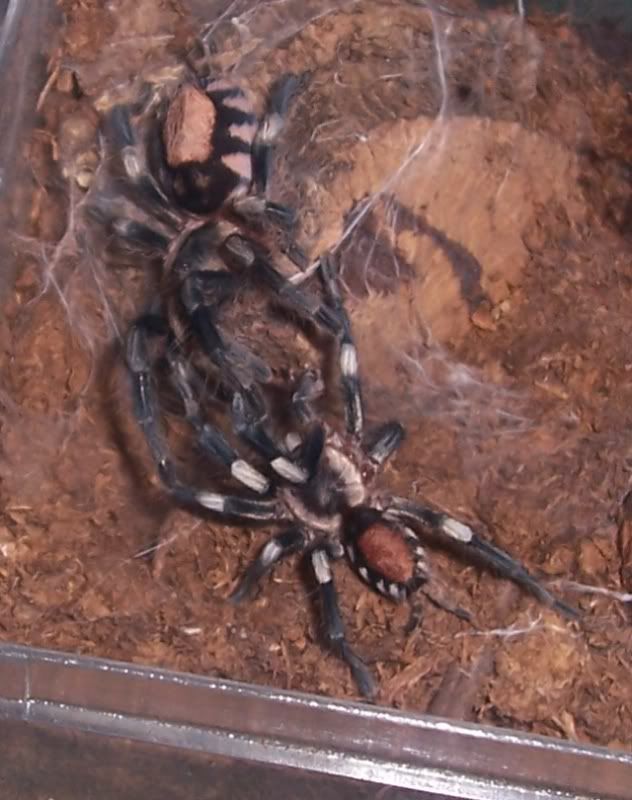 Pairing then occurs, and the pair remain locked for a solid 2.5 hours, maybe longer. Several insertions witnessed with both palps. MM eventually loses footing, and I intervened with a set of tongs to make sure he got away unscathed.
12/15/11: Female begins digging and tunneling underneath her cork bark, constructing a very elaborate burrow. It is at this time that I move her to the "maternity shelving" in my T room (temps roughly 78-79) and feed her one last time - a rather large cricket for her size. The day after this meal, she seals over the entrance of the burrow.
12/25/11: Sac constructed!
1/24/12: Pulled sac. Immediately I could tell this wasn't going to be a good outcome, as mom did not defend the sac when I pulled it. Sure enough, almost as soon as I had it in my hand I could see the problem...mom didn't finish rolling the sac completely when she constructed it, and there was a fairly large hole. All the eggs were dried out due to this.
Outcome: Failure
Reason: Improperly constructed sac led to dessication of eggs.

_________________
Jen Newman, LVT
Heartland Invertebrates


Due to technical difficulty, this is a new account - but the same opinionated user! Take that spam bots!!