I have observed Vaejovis confusus in many different habitats/areas across northern Utah and a few areas in Arizona. And it seems that in basically every area that i have observed this species, they are a highly preyed upon group. In nearly all the areas i have watched this species in Utah, V. confusus are considerably outnumbered. In fact it is hard to imagine just how some aggregations of V. confusus even sustain themselves as a continuous group. With Anuroctonus phaiodactylus generally being a highly fossorial, densely distributed, sit and wait predator, this species is highly successful in almost any area you find them. Vaejovis confusus often being a more widely dispersed, less strictly fossorial, foraging species is less sustainable, and is much more at risk to predation and environmental extremes.
How would a species like Vaejovis confusus sustain a population of even small numbers in a community densely populated with larger, highly successful predacious species such as A. phaiodactylus? I would assume to say that pheromones would signal the smaller V. confusus to avoid burrow entrances of A. phaiodactylus, but often i will find V. confusus inches away, or directly between A. phaiodactylus burrows. I plan to experiment with captive specimens in relation to reactions of pheromone markers in intraguild communitys of scorpions.
Another factor that has been observed and recorded in other species communitys is activity pattern variations. Although other species have been recorded to often have stong differences in activity times, A, phaiodactylus and V. confusus are not completely separated in activity times. Once i have more field observations i will post a graph of activity patterns for these two species. But generally speaking a questionable pattern observed, is that both species will be active in the early part of the night, then A. phaiodactylus will
retreat down during the mid night (V. confusus will stay out and active, this time may prove as an activity peak in V. con) and then A. phaio will ascend to the burrow mouth during the early morning (V. con has retreated back into burrows/cracks/rock piles/debris/etc by this time) period before the sun rises . Although some A. phaiodactylus have been observed at the burrow mouth sitting in
early
morning sun. Sometimes when eating a large meal such as a lizard (Uta stansburiana), or a third or forth instar eating a large grasshopper or cricket.
Some suggested that factors such as rain, or other climate changes may induce a substancial variation in species specific activity. Although no such pattern or variation has been observed with the given species
yet
.
It is unlikely that such factors would have serious determining influences on species specific activity in this specific site due to long periods of 'stable' conditions.
Instar dispersal must also be another time of elevated predation. Adult V. confusus in my study sites of Utah often represent about 6.25 of the entire V. confusus population, sometimes even less. And so far dispersing V. confusus instars seem to follow no pattern, and have no pivotal influences in spatial distribution. At this point in my observations the one time i have seen A. phaiodactylus instars disperse they seemed to all be moving in one general direction, the accuracy and/or importance or this single observation is unclear. Obviously more observations are needed. But when one finds A. phaiodactylus in the field, depending on the habitat type (in this case, sodium based loam in a sage steppe habitat) you will usually see small patches of scorpions, each individual aggregation often within a foot or two of another individual aggregation. Sometimes you will see two-four A. phaiodactylus individuals under the same sage plant. Two-seven specimens in a given spot (anywhere from 15" to four-five ft.) are what i'm calling a individual aggregation. More sampling is needed to given accurate characteristics/statistics of entire populations. Anywhere from 25 to 60+ A. phaiodactylus in a 60 x 60 ft have been observed. In the steppe you will typically see about 4 V. confusus to every 25 A. phaiodactylus. This is only observed in general sage steppe habitats (exluding the rocky areas discussed below).
One attribute than V. confusus seems to have over the species A. phaiodactylus is their adaptability to rocky/gravel environments/areas.
With the areas in which these two species overlap, often at the end of a wash or near a distinct hillside you will see areas that water has carried and built up rocks and gravel/sand. Or on some hillsides where for some reason there are considerable amounts of exposed rock and gravel. As pictured here: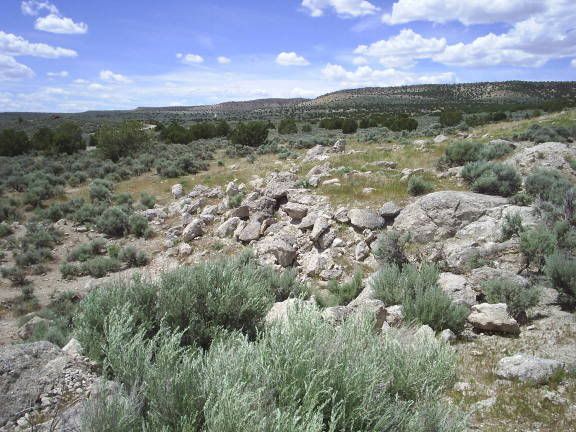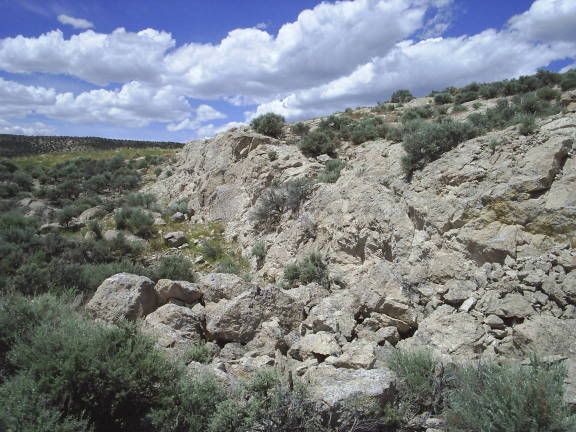 Note: the area pictured has more juniper than normal, more typical steppe habitat is located further down the slopes.
In these areas the substrate dosn't hold burrows nearly as well as in areas with normal amounts of clay, sand, and vegitation. V. confusus will thrive in these rocky areas where A. phaiodactylus is generally absent. Small beetles, psuedoscorpions, crickets, ants, and moths all inhabit these rocky patches aswell. Another reason why V. confusus are so successful in these areas, is due to an obvious abundancy of localized food (observation of regular predation on small beetle species is evident and may often be a large food source in this specific habitat). In these rocky areas all these insects tend to seek cover in the cracks and spaces between and under rocks. In less rocky, typical sage habitat, insects are much less densely located. Basically speaking, in these rocky areas all the arthropod life seems to 'clump' together in provided retreats. More observation must conclude feeding variables in the steppe habitat.
But overall in these rocky areas A. phaiodactylus cannot sustain a uniform burrow. Therefor due to abililty of V. confusus to live in scrapes under rocks (burrows are excavated when able), or cracks/crevices, abandoned rodent burrows, or other crevices/holes created from penetrating water. Along with an abundancy in food, and decreased presence of predators makes this a limited but ideal microhabitat for V. confusus populations bordering/in sage steppe environments.
In more generalized habitat reffered to as sage steppe, since A. phaiodactylus evolve most, if not their entire life around a uniform burrow.
Their body structure allows them to be highly effective in burrowing in hard, sodium rich soil. They typically have a higher survival rate during climatel extremes, are more successful predators. They also have a higher rate of success in mating due to obviously more densely located and evenly distributed individual aggregations. They are ofcourse considerably larger, and more robust than V. confusus, giving them the advantage in a confrontation.
Pictured below is a photo that shows the very edge of this habitat change mentioned above. Below in the valley is more typical flat sage steppe. Although in most areas juniper is not this dense. Study sites vary in location, amount of rocky outcrops and juniper density are the focal differences.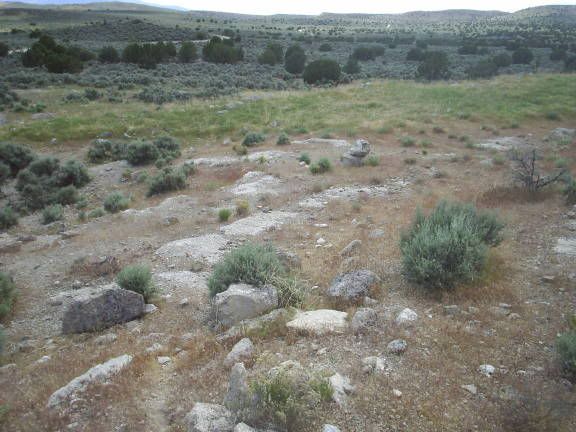 So i guess my question is do those of you that take note on field observations find that in generalized habitats in which V. confusus exsists with another species, that V. confusus is heavily preyed upon?